Lemon, basil and ricotta dumplings in chicken broth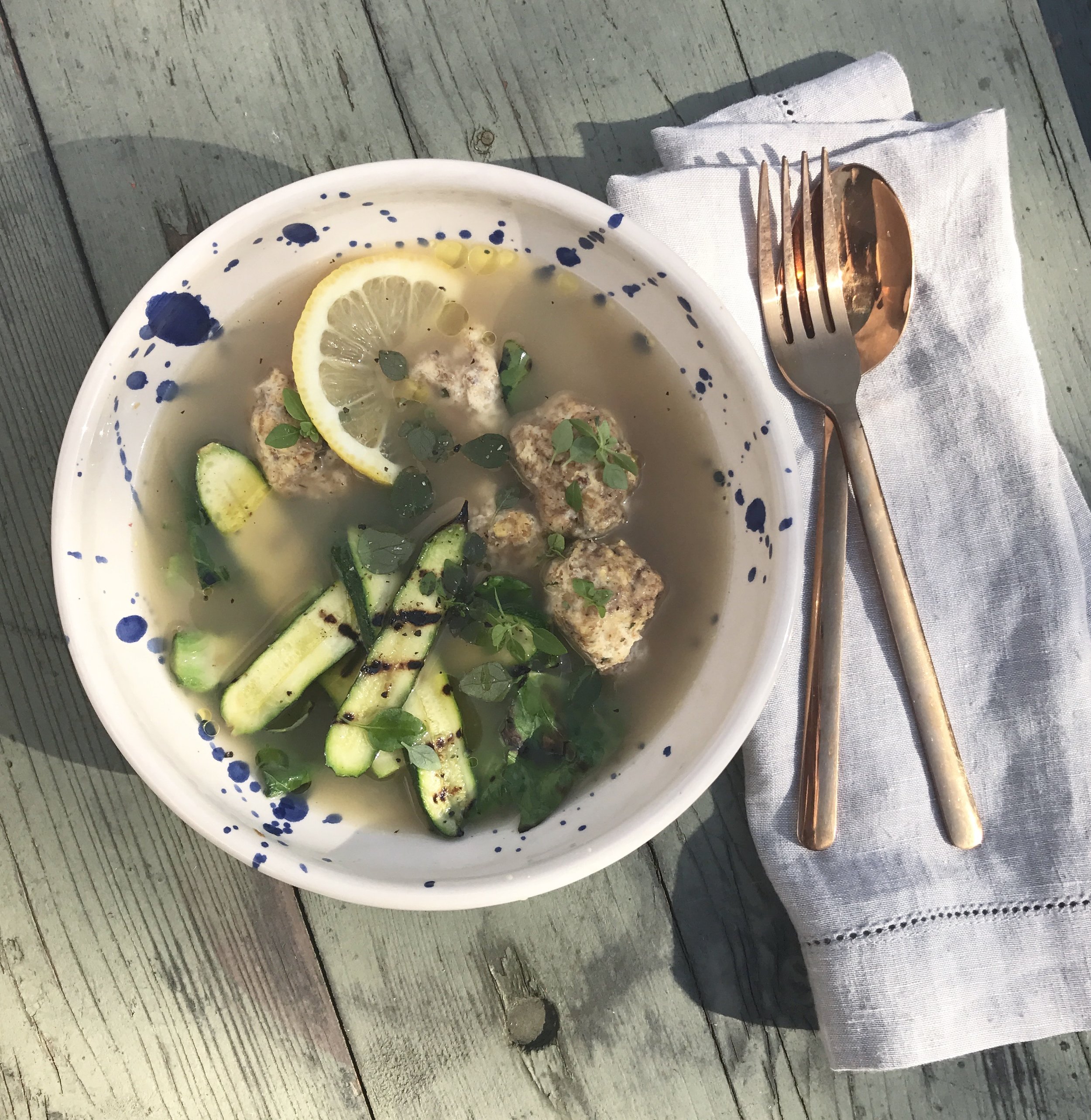 Lemon, basil and ricotta dumplings, with griddled spring veg and chicken broth
Serves 4 as a starter or light lunch
Ingredients
Dumplings
250g Ricotta cheese
1 egg
1/2 cup fine dried breadcrumbs
1/4 cup grated parmesan
Small bunch of flat leaf parsley, finely chopped
Finely grated zest of half a lemon
Plain flour for dusting
Soup
1 litre good quality chicken stock, preferably home made
Spring vegetables e.g. baby courgettes, spring greens, sweetheart cabbage or sprouting broccoli
Juice of half a lemon
Method
Empty the ricotta into a fine sieve and leave to drain over the sink for half an hour (or longer) to dry it out.
Mix the drained ricotta, egg, bread crumbs, parmesan, parsley and lemon zest along with a good pinch of black pepper, until just combined.
Empty some plain flour onto a plain. Take heaped teaspoons of the dumpling mixture and roll it into a ball, either in the palm of your hand or on the plate, roll in the flour until lightly coated. (If the mixture is very soft chill in the fridge for half an hour before you roll the dumplings). Once all the dumplings are rolled place in the fridge for an hour (or up to four) to firm up before cooking.
Heat half the chicken stock in a medium sauce pan until boiling, season with salt if the stock isn't already seasoned. Add a few dumplings, being careful not to overcrowd the pan and cook for around 5 minutes until puffed up and risen to the surface. Scoop them out with a spider strainer, place to one side and continue until all the dumplings are cooked.
Once all the dumplings are cooked prepare your veg - this really depends on what you have available and your personal preference. Steam or griddle your vegetables and add a small portion to the bottom of each soup bowl (see header notes).
When the dumplings and vegetables are both ready, add the remaining chicken stock to the saucepan and heat to a simmer, check for seasoning then add the dumplings back to the pan for 1 minute. Turn off the heat then add the lemon juice. Divide the dumplings between the bowls and ladle the chicken stock over the vegetables and dumplings. Top with more parmesan, parsley, lemon slices and a drizzle of olive oil. ENJOY!